Women's Ministry
A Community of Women committed to the Call of Christ
Prince of Peace has many opportunities for all Women to serve, join a small group study, and enjoy fellowship with other Christian Women. Connect with us wherever you may be in your Spiritual Journey!
Our theme for the year is "Restore"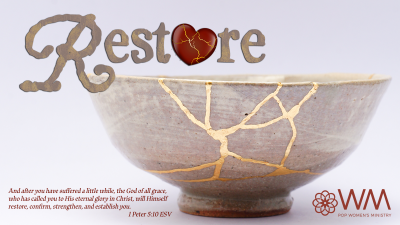 ---
Upcoming Events
Women's Spring Brunch
Please join us for the Brunch on Wednesday, May 25, 2022 at 9:30am in the Prince of Peace Fellowship Hall.
If you are able to attend, please see our SignupGenius page to sign-up to bring a dish to share.
Look for invitations at the POP Welcome Center to invite a friend. Hope you can join the Women of POP for fellowship and good food!
Contact Darlene McCoy for more information.

Volunteers!
We need YOU! Volunteers are needed for all events, please contact the Church Office to get involved.
---
Women's Ministry Small Group Studies
Listed below are all the current Groups & Bible Studies offered by the Women's Ministry at Prince of Peace
If you'd like to purchase any of the book selections listed, just click on the image of the book and you'll be taken to where you can purchase it.
Daytime Offerings
Wednesday Morning Women
Wednesday Morning Women's Worship & Devotion
Wednesdays (September - May), 9:15am-11:30pm, in the POP Fellowship Hall
Wednesday Morning is a community of multi-generational women, meeting for fellowship, devotion, and studying God's Word in small groups. We gather weekly throughout the school year, at 9:15am, in the Prince of Peace Fellowship Hall. Join us for a time of worship and fellowship. If you want to join us via Zoom, click here
We enjoy fellowship and a devotion as a large group, beginning at 9:15am. At 10am, we move to our small-group Bible studies. Come for the just the large group or come for the entire time, we just want to meet you and get to know you. Contact Jennifer Gross for more information.
Child care is provided by our vaccinated and masked Nursery workers!
Wednesday Mornings' Small Groups
Holy Comforters
Holy Comforters
Thursdays at 9am, in Prince of Peace Rm 27 (January - May)
Holy Comforters is a service ministry that meets at Prince of Peace. This group of interdenominational women meets weekly, from January through May. We make quilts for several organizations. No sewing or quilting experience needed; there is a job for everyone. Bring a friend for lots of fun and fellowship. For more information contact Mary Lion.
Knit, Purl, Pray
Knit, Purl, Pray

Every 2nd Wednesday from 11:30am-1pm, in the Prince of Peace Fellowship Hall
Knit, Purl, Pray group meets every week virtually, and once per month, in-person. If you enjoy knitting or crocheting or would like to learn, join us! Read a devotion and talk with friends with similar interests while knitting or crocheting.
We have some supplies for new learners, so feel free to check out this friendly group! Contact leader Asia Reed for more information and the Zoom link!
Sunday Morning Women
Sunday Morning Women's Study

Sundays at 9:30am, in-person in Rm 11, and virtually
If you can't join us on Wednesdays, join us during the Sunday School hour at Prince of Peace for Sunday Morning Women of the Word. We meet in-person (Room 11) and virtually, from 9:30-10:20am. This multi-generational group of women get together for fellowship, prayer and to study God's word through Bible study.
Our current study is using the book Acts, by N.T. Wright. This 24-week study looks at how Jesus continues to act within the real world, informing and empowering our acts today. Group meets in Room 11, and online. Contact leader M.E. Sorenson for more info and Zoom link.
Evening Offerings
For those who can't attend a morning small group study, there are also some offerings in the evenings to choose from. Each evening study has a different point of contact. For more information see individual listings.
Tuesday Evenings
Tuesday Evenings

Tuesday evenings, at 7pm, via Zoom
Are you ready to see how God is going to restore us this year? I know I am. COVID takes much from us, but it can NOT take our faith or study of scripture. Join us on Tuesday evenings, at 7pm, via Zoom! All you have to do is just show up on Zoom with your Bible and drink of choice! Contact leader Liz Taylor for the Zoom link.
Schedule: October: 5, 12, 19, 26; November: 2, 9, 16, 30; December: 7
Friendship, it's Complicated
Friends, it's Complicated
Tuesdays at 7pm, via Zoom

We were made for connection with other women. Yet too often our friendships are marked by drama, competition, betrayal, or unforgiveness. We can cause one another deep pain, creating wounds in need of healing, when we really long to cheer each other on, and fulfill our God-breathed purpose together. The practical and biblical applications throughout this book will empower you to do the work by facing yourself, untangling the mess, then seeking reconciliation for genuine connection. You can build healthy, authentic friendships even when it's been painful or complicated in the past. For more information check out the book trailer
Faith Shapers
Faith Shapers

Third Thursday of the month at 7pm, via Zoom
Meeting once per month on a Thursday, Faith Shapers is an opportunity for women to explore literary selections that will grow and shape your faith through reading and discussion, from September to June. The current flier details the dates/times and books for each month. If you have any questions, contact leader Jennifer Gross. Please view our Book List since 2006 to see the titles we have read.