Seniors (55+)
Come Study and Fellowship with the Seniors of Prince of Peace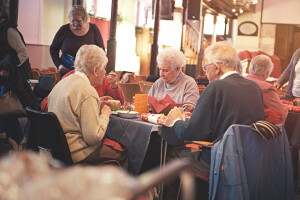 The Seniors at Prince of Peace are actively involved in fellowship and leadership, especially in Caring Ministries, and in cheerfully welcoming Newcomers and friends. Below are just a couple of the many opportunities for Seniors to connect at Prince of Peace:
Seniors' Bible Study
This study meets every Monday at 11am in the Prince of Peace Library (Rm 26), and discuss God's word, as it is written in the Bible, for a better understanding and how to apply it to our daily life and family.
Sparklers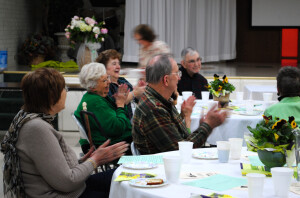 Sparklers is an extension of the Seniors' Bible Study and includes any Senior and their guests. There is a monthly luncheon, usually the third Friday of every month, from September to June. The primary purposes are Christian Fellowship and keeping up with Church affairs. Guest speakers are often featured at the luncheons. We usually meet in the POP Fellowship hall, but occasionally eat out together.
See the Prince of Peace Weekly e-Newsletter for more details on any upcoming events. If you're not getting the e-Newsletter you can sign-up here, or you can always contact the Church Office.
Upcoming Events
The following are programs offered by Fairfax Area Agency on Aging.
Virtual Dementia Friends Information Session - WEBINAR
Get a new understanding of dementia.
Every other month, Noon–1:15pm
For dates/topics and to register click here: Dementia Webinars
Free Webinars for Family Caregivers of Older Adults
Every month from Noon–1pm. Each month is a different topic related to Caregivers.
For exact dates/topics and to register click here: Caregiver Webinars