Hooray for me... I'm FREE!
Children need to turn 3 years old by September 30th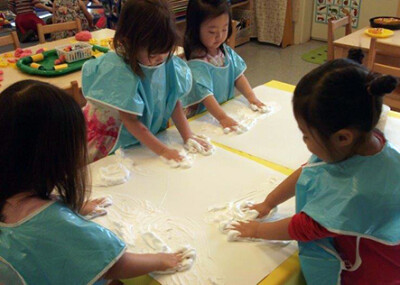 We welcome the excitement and exuberance that children who are three (a.k.a. "free") years-old bring with them! Our staff is trained and our program is especially designed to support these children in their dual quest for increasing independence and hands on discovery learning. Children must have independent bathroom skills to attend this program, no pull-ups or diapers please.
Goals of our program
To help your child . . .
feel safe and secure without you

learn to make choices and recognize limits

meet and acquire playmates and friends

express themselves through art, music, movement and dramatic play

take pride in "I did it myself!" moments

learn about taking turns and "just trying"

share toys, materials and attention

use words to tell about feelings, needs and wants

feel comfortable in Chapel, talking to God

Learn that Jesus is our best friend!

develop language and literacy skills across an integrated curriculum

learn leadership skills by helping others

discover simple math and science concepts through hands-on exploration
Areas of Development
Physical ~ skills, strength, coordination, movement, exercise
Spiritual ~ introduce Chapel, talking to God, learning about His birth, life and ministry
Aesthetic ~ music, arts, drama, movement
Social/Emotional ~ safe, happy, respect, self-esteem, forgiveness, helping others, forging friendships, forming attachments with trusted adults
Cognitive ~ develop and pursue interests and curiosities, ask and respond to questions, solve problems, undertake challenges
Language ~ use words to communicate wants and needs, express feelings and thoughts, develop speaking, listening, reading and writing skills, love for conversation, books and storytelling
For the next School Year 2021-2022
DAYS AND TIMES OF CLASSES
Our 2-Day AM Program is

Tuesday and Thursday mornings from 9am-12pm

Our 3-Day AM Program is

Monday, Wednesday & Friday mornings from 9am-12pm

Our 5-day AM Program is Monday through Friday mornings from 9am -12pm