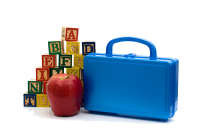 Our LunchBox Program at Prince of Peace will begin each school year in early October. This program is available for children in our Kindergarten and Morning Four Year Old Classes only. LunchBox will be offered on Wednesdays and Thursdays from 12:00pm and runs until 1:30pm. Children bring their own lunch; please remember that our No Nut, Peanut Free Policy still applies. Please sign up with Mrs. Page in the School Office. The cost is $15.00 per session and will be due at the time of sign-up, classes may not be exchanged or refunded.
Mrs. Joanne Lipka has been the LunchBox Teacher since our LunchBox Program began. And so has the Assistant Teacher, Arsema Abbay. There will always be two teachers at all times in our LunchBox Program.
The Lunch Box Program starts with exercises in the Indoor Playroom or Music Room. The children then have lunch together in a classroom, followed by an opportunity to play a variety of board games, draw or read books with the teachers. Please come to the Panda classroom for pick-up. For the security of your child, please remember that the person that picks up your child must be on the sign-up sheet that you filled out in the Office. Please call the School Office at (703)451-6177, if a change needs to be made to that form.
The goal of The LunchBox Program is to:
Meet the needs and requests of our current school families
Provide a safe, loving and familiar environment where children can have an additional type of social experience at school
Give children an opportunity to have lunch and an extended playtime with old and new friends
We look forward to being a partner with you in this program at Prince of Peace Lutheran Preschool and Kindergarten.