Prince of Peace Envision Event
Sunday, October 16, 2022, 8:15 AM - 4:45 PM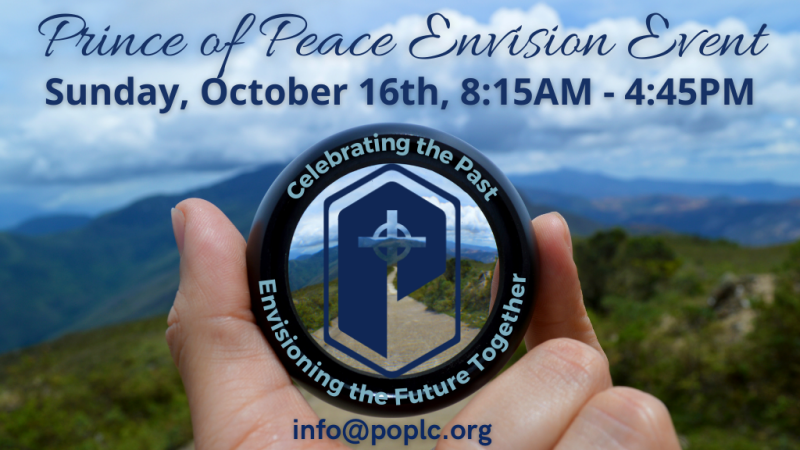 Let us know if you will need childcare, so we can plan accordingly. We are exploring childcare options for Nursery age, as well as K-6th, so let us know as soon as possible.
The Board of Servant Leaders (BOSL) & Lead Staff invite you to a very
important day

for the future of our Church:
WHO? All members and active attenders, High School and above
WHAT? An interactive day to turn toward the

future together
WHEN?

Sunday, October 16th, 8:15am to 4:45pm
WHERE? Prince of Peace Fellowship Hall
WHY? To Help more people experience

the peace and mission of God
The Details:
Over the past year, the Board of Servant Leaders & Lead Staff have been discussing the past, present, and future of our church. We have decided to set aside a Sunday to worship together, grow together, celebrate the past together, and turn toward the future together. That weekend, we will not have normal Saturday or Sunday services; the envisioning event will have worship incorporated into it. We know this is a bit unconventional, but believe it provides the best opportunity for most people to participate.
We are inviting all members and regular attenders of Prince of Peace, High School and above, to participate in this pivotal event. Pastor Travis Guse, Mission Engagement Facilitator of the Southeastern District, will be guiding our time together. This envisioning event will produce 3 immediate strategic opportunities for us to pursue together and unify us for the future.
I strongly encourage you to put aside this monumental day to worship the Lord in this unique way. We believe that, as we celebrate 60 years of ministry, this is the perfect time to discern God's will for Prince of Peace together. We want you to be an integral part of it. As one of our leaders stated, we must do this if we are to move forward in the next season of ministry. We are truly at a critical and exciting time for Prince of Peace.
We are truly grateful for you, our church family. Keep this day in prayer and all those God wants us to reach with His peace.
Register now!