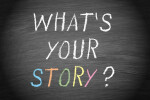 Recently on this blog, I confessed my love for all things Hamilton. And a month later, I'm still listening to the cast recording of the Broadway musical Hamilton. I've moved on from listening to it exclusively—after all, Crowder just released a new album—but I still find myself singing along with it in the car at least once a week.
Hamilton tells the story of the life and death of Alexander Hamilton, a true story that reads more like a soap opera or an epic novel. Hamilton came to colonial America from the Caribbean as a teenager, fought in the Revolutionary War, was an aide to George Washington and eventually the nation's first Treasury Secretary. Along the way, he founded the first national bank, the Coast Guard, and the New York Post, and he was the main contributor to The Federalist Papers, which helped sway public opinion to adopt the U.S. Constitution. When he was 49 years old, he was killed in a duel by Aaron Burr, who was vice-president at the time.
The last song of the musical is called "Who Lives, Who Dies, Who Tells Your Story," and it focuses on both Hamilton's legacy and what his wife Eliza did after Hamilton died. The song expands on a line that George Washington sings earlier in the musical, and which is repeated here: "You have no control who lives, who dies, who tells your story?"
Alexander Hamilton's widow, Eliza, sings about all of the things she does to preserve Hamilton's legacy, to tell his story after he dies too young. This song has an urgency, as does most of the musical. Hamilton is always in a hurry. In a hurry to prove himself, to achieve, to build a legacy, to assure himself that he has made a mark on the world. And by earthly standards, he does. Along with the other Founding Fathers, he creates a new country from the ashes of colonial rebellion. His name is in the history books, along with Washington's, Jefferson's, and the rest. His story is told—by his wife in the years after his death, in the history books, and now in this musical.
Here, at the end of this musical, the question turns to the audience. Who lives, who dies, who tells YOUR story? Can you feel the longing in those words? The longing to achieve as Hamilton achieved, the longing for people to remember you after you're gone? We live in a culture that venerates achievement, that adores celebrities, where kids answer the question "what do you want to be when you grow up?" with one word: "famous!"
One question that haunts me sometimes, as it haunts Eliza here, is "When my time is up, have I done enough? Will they tell our story?" I think the questions "have I done enough? am I enough?" haunt many of us in this fast-moving, achievement culture. There is always another thing to do, whether it is driving your kid to football practice, or going to that meeting, or joining that important cause. And there never seems to be enough time to do it all.
For all the brilliance and thoughtfulness of this musical and its lyrics, it can only ask the questions from our perspective here on earth. That last song is haunting, because it reminds us that we truly do have limited time here. We are not all Alexander Hamilton. Most of us will not be mentioned in the history books. As the song says, after we're gone, "we have no control who lives, who dies, who tells our story."
But here is where God's answer comes in. Let's look at Paul's letter to the Colossians:
Since, then, you have been raised with Christ, set your hearts on things above, where Christ is, seated at the right hand of God. 2 Set your minds on things above, not on earthly things. 3 For you died, and your life is now hidden with Christ in God. 4 When Christ, who is your life, appears, then you also will appear with him in glory (Col 3:1-4).
That phrase, "your life is now hidden with Christ in God" always sticks out to me. As a reader and a writer, I often think of my life as a story. But no one knows my whole story. Even I don't know my whole story.
About a month ago in a Sunday School class, Pastor Carl shared one way to look at knowledge about ourselves. There are four categories of information about us: what I know about me, what other people know about me, what I AND other people know about me, and what no one knows. There are things about myself that I don't know. There are things about yourself that you don't know. None of us knows the full story about ourselves, much less about other people. But do you know who does know the whole story? God.
One expression about starting to follow Jesus is, "I gave my life to Christ." And we do. When we die to ourselves and to our sin in baptism, and are raised to life in Christ, we give our lives to our Savior. We surrender to His love and forgiveness. And Paul tells us, then, our lives are "hidden with Christ in God."
When I think of my life being hidden with Christ, I get a sense of safety. My story—my whole story, even the parts I can't remember, even the parts of myself I don't know—all of it is safe in the hands of our Savior, who loves us. We don't need to wonder who will remember us after we're gone. We don't need to strive and worry and sweat and wonder if we've done enough. It is not ours to worry about. Our lives are hidden in Christ, who is the Author of our stories.
And here's the best part. He sees us. He delights in us. He knows us. He knows about those struggles that take place only in our minds. He knows about that small triumph over a bad habit that no one else notices. He also knows every sin, every uncharitable impulse, every selfish thought. But Christ's love and sacrifice are so great that He forgives us of those. He re-writes our stories of sin and turns them into stories of forgiveness and of love.
Because, in Christ, however our story starts out, it always ends in Him. Verse 4 of that Colossians passage says, "When Christ, who is your life, appears, then you also will appear with him in glory."
Christ is our life. We share our stories to share Christ. And we don't need to worry about our legacy, about who will remember us, about our own glory. For we are remembered for eternity by the only audience that matters—our Savior and Lord.
In the book of Isaiah, the people of God lament that God has forgotten them. But God says this:
Can a mother forget the baby at her breast
and have no compassion on the child she has borne?
Though she may forget,
I will not forget you!
16 See, I have engraved you on the palms of my hands;
Something in the Hamilton lyrics that, I think, gets mostly ignored, is the words before the questions. "You have no control." To our earthly ears, losing control is a bad thing. But when we think of our lives from the perspective of God's love for us, those words can be a comfort. No, we have no control who lives, who dies, or who tells our story. But God does. God holds our lives, our stories, safe in His hands.
Jennifer is an introverted stay-at-home mom of two extroverted daughters, who are delightful, funny, and never stop talking. Married for nearly 25 years to an introverted tech guy, Jennifer relishes quiet time spent reading, writing, and thinking in a straight line without interruptions. Sadly, she's been interrupted five times since sitting down to write this (curse you, snow days!). As an idealist with a practical side, she's fascinated with how God works in the reality of everyday life. As a former copyeditor, she has very strong opinions about commas, semi-colons, and dashes. And don't even get her started on misused idioms.