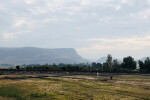 God has a sense of humor. We've all heard that—and probably said it—but usually it's in the context of something like: "When we make plans, God laughs." Or we tell a story about how a God moment came out of left field, catching us completely off-guard, and conclude it with "God sure has a sense of humor." What I mean, though, is that sometimes God is downright side-splitting-laugh-out-loud-blow-coffee-through-your-nose hilarious. Or maybe it's just me.
One of the funniest verses in all of Scripture comes in one of its most somber, serious, and profound recorded events: the Transfiguration. During the Transfiguration, Jesus was revealed in His glory to three of his disciples, communed with Elijah and Moses, and was once again heralded by the Father Himself as His beloved. Mark 9:2-8 tells the story--roll tape!
And after six days Jesus took with him Peter and James and John, and led them up a high mountain by themselves. And he was transfigured before them, and his clothes became radiant, intensely white, as no one on earth could bleach them. And there appeared to them Elijah with Moses, and they were talking with Jesus. And Peter said to Jesus,"Rabbi, it is good that we are here. Let us make three tents, one for you and one for Moses and one for Elijah." For he did not know what to say, for they were terrified. And a cloud overshadowed them, and a voice came out of the cloud, "This is my beloved Son; listen to him." And suddenly, looking around, they no longer saw anyone with them but Jesus only.
Picture yourself in their place. The whole episode bespeaks an intimacy I like, a foreshadowing. Peter, James, and John should have been on their faces worshiping, but Moses and Elijah were chatting with the King of the Universe like friends. One day, my friends, one day.
I don't know how I would have reacted, but Peter being Peter, he instantly focused on doing rather than just being in the presence of God. And, Peter being Peter, as Jesus was engaged in a conversation with Moses and Elijah, he had to interrupt. Why did he interrupt? Get this. This is the punchline. He interrupted because he didn't know what to say.
Tradition has Peter as the primary source for Mark, and Mark had to get this account from Peter, James, or John because no one else was there. I wonder, did Peter have any self-awareness when he recounted that to Mark? "Dude! It was so scary. I was shaking all over and didn't know what to say so I blurted out the first stupid thing that came to my mind."
This story humbles me, because how often do I babble at God—more like I'm hosting my own radio talk show than praying—while God is thinking, "if he'd just shut up and listen." If Peter had listened, we might know what they had been saying.
God wasn't done yet, though. We know Peter interrupted the conversation Jesus was having because it's only after God speaks that Moses and Elijah vanish. God responded to Peter's interruption with one of His own. It wasn't random that God boomed, "This is my beloved Son; listen to him." In other words, stop interrupting and pay attention! How many times did our earthly fathers tell us the exact same thing?
How often are we—am I—focused on doing rather than just being with God, on talking rather than listening? As His sheep we may know His voice (John 10), but how can we identify it in our coffee-shop, white noise, hurly-burly lives? There is so much to admire and emulate about Peter, especially post-Pentecost (though even then he had trouble listening, and God had to teach him in a trance to reach out to the Gentiles in Acts 10), but as we at Prince of Peace move through this time of transition, let us all remember who our Good Shepherd is and listen to him.
For God alone my soul waits in silence; from him comes my salvation. He alone is my rock and my salvation, my fortress; I shall not be greatly shaken. (Psalm 62:1-2)
Bo has been a member of POP since 2015 and currently serves as a Care Minister and on the Care and Outreach Leadership Team. Bo has been married to Kerri for 30 years and they have five grown children. He has served as a stay-at-home dad, home-school teacher, and a Director of Christian Education.