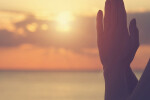 My faith story over the last 18 months or so has been a long journey of ups and downs. Most Prince of Peace members know me as the happiest young woman when I walk into church—and believe me, I was, until I got some news that took a toll on me, emotionally and spiritually.
In November 2016, my Grandma Virginia told me she had stomach cancer. This was earth-shattering news, and I felt like God had abandoned her and my biological father's side of the family. She had surgery right before Christmas. She had always come to the Christmas concert, but that year she couldn't come. During her recovery, my emotions were all over the place, and I felt forgotten by God. Like I wasn't as important, or as high on his list. Now I know, that's not true. We're always high on God's list because he loves us all very much.
In my anger and shock, I reached out to Cindy Gnewuch for prayers, because I had come to know and trust her to let me know that things were going to be OK. Pastor Carl also gave me comfort, as did Meghan Benson (her kind words and tons of prayers), Anna Ferguson, and many others who have helped me with their kind words, actions, and most of all the hugs that they've given me. (Trust me on this: if you want me to feel better, hug me!)
There have been so many ups and downs, all of which have helped to ground and solidify my faith. One big "up" for me was on my 20th birthday, which happened to fall on Palm Sunday in 2017. I knew that I should be excited about my birthday, but Grandma Virginia was going through chemotherapy, and I had put my happiness on the back burner until she got better. But that day, I received the biggest outpouring of love from everyone in the Sunday School program, where I'd been teaching kindergarten for about 2 years. (This year, I'm teaching the 3- and 4-year-old class.) When I got down to the classroom, only 2 kids were sitting at the table, since many of the kids were away on spring break. But on the tables were things for a party! I was at first confused, but when Nancy Lansing popped out with a "Surprise!" I immediately felt a wave of happiness and comfort. I was comforted that my fellow Sunday School volunteers had taken the time to pull this all together on a holiday weekend to make my 20th birthday so amazing. That birthday was more special than all the others because it showed me what heaven looks like—a constant outpouring of love.
To be honest, there have also been a lot of "downs." One faith-defining moment for me was when Pastor Carl and Cindy left in April 2017. At first all I felt was my heart--which was still on the mend from Grandma Virginia's cancer--just shattering. I'd gotten close to Pastor and Cindy. Then my broken and sad heart unfortunately turned to anger at our church, as I began and am still going through the grieving process. I felt like Pastor and Cindy leaving was a huge hit to my faith, and my grief at the time blinded me to the knowledge that God places people in our lives at certain moments for a reason. Even though saying good-bye was very hard, it taught me to cherish the good friendships and good people that God has placed in my life and to hold the people that are so dear to me closer to my heart. And I also remembered that God never leaves us—he never has and never will.
During Pastor Carl's final week in our church, I received the news that someone at my former high school had died by suicide. That really hurt. I graduated from Woodson High School in 2015, but I still had friends there. I was already hurting from saying goodbye to the Gnewuchs, but God laid on my heart that instead of adding more hurt to my heart, I should do something about it.
As I was sharing some "Go Fund Me" pages to help the family of the student with funeral expenses, I wrote a public post saying that I had enough with the lack of assistance with mental health issues. Basically, I gave a rallying cry to whoever would listen. Stacey Crosson commented, wanting to hear my ideas. My post and the conversation that followed led to two mental health forums for teens and parents, led by Anna Ferguson and me.
What I see now is that I can turn my hurt into action. The mental health forums helped our teens/youth and taught me a lot about myself. It also gave me a chance to heal as well, and it has worked in the most wonderful way. I got a chance to get closer to some of the youth at our church, and also to glorify God and feel like I was starting a huge spark of change in the field of mental health regarding adolescents. Both events were incredibly successful, and they added lots of love to my heart while also giving me a chance to show God's love to the youth.
At the most recent Christmas concert, I listened Living Water, the teen contemporary group sing "Noel":
"Noel! Come and see what God has done!"
After hearing that line of the song, a thought hit me. How could I have been so blind?! God had placed the challenges I'd faced recently to test my faith! I had been so blind in my fear of not knowing what was coming next that I wasn't able to fully embrace the good God had placed in my life! Cindy had told me time and time again, "God will only give you what he believes you can handle." If only I'd listened. If only I'd taken what she had said to heart. Then I would've been much better off.
Grandma Virginia is doing wonderfully, the doctors were able to help her reach remission with the cancer, but we must wait a few years before they can call it cured.
In closing, I can truly say that... I'm not perfect. I'm not fully healed from all the heartache that I had to endure since November 2016, and I don't even know if I'll fully heal before something new breaks my heart. But here's what I do know: without a doubt, God has been with me throughout all this heartbreak and tribulation. He's carried me through this and still does, and he will never let me go. I hope that in reading this, you can come to the same joy in knowing that God will NEVER let us go, he will be with us... forever.
Lynn is a crazy, lovable, energetic, optimistic, and sometimes impatient person. She's a junior at Northern Virginia Community College. She currently does a lot of work in the music and Sunday School ministries, handbells and orchestra (music ministry), and she teaches the preschool and kindergarten Sunday School classes. She grew up in the church and always insists that church must be family-centered. She continues to give God praise and glory every day for all the good work in those ministries and in her life.