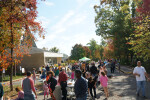 This past weekend we hosted a neighborhood block party to celebrate the 500th year of the Reformation! There was an overwhelming positive response from the 500 plus attendees.
"My family needed this. Thank you Prince of Peace for hosting this day."
"The atmosphere was so relaxed and fun. We need more of this in life."
One person asked, "Why are you doing this?" And one of our amazing volunteers responded, "It's the way we demonstrate the love of Jesus."
Isn't the question interesting? What the person was really asking was, "What's your angle here?" "What are you trying to get from me?"
We live in a world that is anxious and skeptical where nothing is for free. How can the Church show up?
When we read the Good News of Jesus, we see him showing up in various neighborhoods, bonding with and listening to the people who live there, spending time in their homes and doing daily things of life together, like eating and drinking. He asks a lot of questions and uses his God-given gifts to bring encouragement and healing. He shares words of grace, truth, and hope.
That is exactly how the Church shows up.
We BLESS others when we authentically…
Bond with our neighbors and learn their name,
Learn and listen to their stories,
Engage, eat, and drink with them,
Serve them with generous hospitality and a listening presence, and
Share the message of forgiveness and grace in Jesus Christ.
Please pray with me: Lord, who can I BLESS today? Open my eyes to see. Open my heart to respond. Give me ears to hear. Give me words to say. Amen.