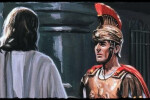 In Luke, chapter 7, we consider what people value and what makes them worthy.
In verse 2, a centurion living in Capernaum highly valued his servant who was sick and at the point of death. The passage does not tell us why the centurion valued his servant, but his expression of that value was to send for Jesus. Do we value people enough to ask Jesus to visit them?
In verses 4 and 5, the elders of the Jews told Jesus that the centurion was worthy of his attention because of the centurion's love for the Jewish nation and he built their synagogue. In other words, the centurion placed high value on the Jewish people, and he expressed that value in good works. Do we value people for what they value and for what they do? Is this an appropriate measure?
In verse 6, the centurion sends his friends to tell Jesus that he is not worthy for Jesus to come to his house. This message is the opposite of the testimony of the Jewish elders, who said he was worthy. The centurion apparently did not find his own worth in what he valued or in what he did. The passage does not tell us directly why he did not think he was worthy, but we can surmise that it is a question of identity. Referencing Acts 10:28, we recall Peter telling another centurion how unlawful it was for a Jew to associate with or visit anyone of another nation. The Capernaum centurion surely must have known this aspect of Jewish law, but still he felt empowered to send for Jesus as a matter of authority. The centurion – through his friends – said that he was a man set under authority, and he also demonstrated that he was a man who exercised authority. In his message – "I, too, am a man set under authority" – the centurion recognized that Jesus was also under authority and exercised authority. Here is when Jesus recognized the centurion's faith. By recognizing that Jesus was "set under authority", the centurion recognized that Jesus was sent by his Heavenly Father, and that Jesus exercised authority, he recognized Jesus could "say the word, and let my servant be healed." Jesus took the centurion's confession and saw in him a new identity – not as a gentile nor as a centurion, and not based on what he valued or what he did, but as a new creation through his faith in the One sent under the authority of the Father and exercising all authority under heaven and earth. Here, faith came not through seeing but believing – Jesus did not continue to the centurion's house, and the centurion did not see him, but the servant was made well. Praise be to God!