Women of the Word (WOW)
A Community of Women
Committed to the Call of Christ.



Prince of Peace offers many opportunities for women to serve, be a member of a Bible study, and enjoy fellowship with Christian women. Connect with us wherever you may be in your spiritual journey.
Wednesday Mornings
WOW Wednesday Mornings is a community of multi-generational women, meeting for fellowship, devotion, and studying God's Word in small groups. We gather weekly throughout the school year, in the Fellowship Hall at Prince of Peace. Wednesday Morning runs through the school year. Click on the brochure to the left to see Winter 2017 Study Offerings
Faith Shapers
Faith Shapers is a monthly opportunity for women to explore literary selections that will grow and shape your faith through reading and discussion in community each year from September to June. Please click the flyer to the right for more information, list of meeting dates, and book titles. If you have any questions, contact Chris Hohenstein.
Please view our Book List since 2006 to see titles we have read.
Ladies' Night Out
Ladies' night out is a time for fellowship for the Women at Prince of Peace. More information, dates and locations for the next year can be found by clicking on the flyer to the left. If you need additional information, you can contact Sarah Sherwood.
Holy Comforters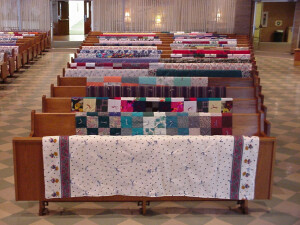 Holy Comforters is a service ministry that meets at Prince of Peace. This group of interdenominational women meets weekly, from January through May, on Thursdays 9am to 3pm. We make quilts for Lutheran World Relief, 25:40, Inc., and Metro Women's Care. No sewing or quilting experience needed; there is a job for everyone. Bring a friend for lots of fun and fellowship! Quilting will resume in January 2017.
For more information contact: Mary Lion (703)451-5822 or Helen Holst (703)971-3172 or email
Keep the Faith
Keep the Faith events promote the use of our creative gifts from God to glorify Him. Through various mixed media projects, the faith journies of God's people are captured, expressed, and shared. Keep the Faith events are open to all. For more information, please send an email to
By Women For Women
To learn more about our new initiative, By Women For Women, click on the flyer to the left.